Sometimes you can't avoid eating out and that's okay every once in a while. But when eating out becomes the norm it can lead to some nutritional issues (as well as be hard on the wallet). Eating at restaurants while you are trying to follow a medically tailored or calorie-controlled diet can be extremely difficult. Many people are unaware of how much sodium, fat, sugar, or calories are in the meals they are ordering. Learning these numbers can be shocking!
If you will be dining out it is always best to plan and make smart choices. Being aware of your portions, slowing down, and really enjoying your food is also key to maintaining a healthy diet while eating out. We've all been there when we've eaten out one too many times and crave familiar and healthier meals as a result.
Seattle Sutton's Healthy Eating meals provide the convenience and taste of restaurant meals without the heavy, unbalanced meals. By following the nutrition guidelines from the American Heart Association, American Diabetes Association, and Dietary Guidelines for Americans our nutrition is controlled and helpful for those trying to lose weight or control diet-related medical conditions.
Read on for comparisons of meals on our menu versus the same version at a restaurant. Hold on to your socks because some of these comparisons are sure to surprise you!
Day 1
Breakfast
Skip the long line at the drive-thru on your way to work! With our Ciabatta Egg Sandwich instead of Starbuck's Impossible Breakfast Sandwich you'll save 160 calories, 12 g fat, and 240 mg sodium. Make your own coffee, grab your meal, and head out the door and you won't have to worry about being late, spending too much money, or if you're making a healthy choice.
Lunch
Chipotle's Chicken Al Pastor Bowl has 1430 mg of sodium!! Do you feel bloated just reading those nutrition facts? With our El Pastor Bowl, you will save 560 calories, 30 g fat, 1020 mg sodium, and 52 g carbs. Too much sodium in our diets has been linked to high blood pressure, heart disease, stroke, and bone loss.
Dinner
The American Heart Association and Dietary Guidelines for Americans recommend eating less than 2300 mg of sodium for most Americans daily. Olive Garden's Chicken Parmigiana is 1000 mg over that daily recommendation! The average amount of sodium Americans eat daily is over 3,400 mg, with this dish containing 3300 mg you can see how easily it adds up.
You don't have to give up your favorite foods, just watch your portions and prepare your foods with less salt and better ingredients. By choosing Seattle Sutton's Chicken Parmigiana instead you will save 550 calories, 37 g fat,
10.5 g saturated fat, 2730 mg sodium, and 35 g carbohydrates.
Day 1 Round Up
If you were to have these three meals at a restaurant instead of choosing Seattle Sutton's, you would be looking at eating 2320 calories, 120 g fat, and 5530 mg sodium!!! Our most popular plan, our 1200 calories plan, averages 1500 mg of sodium a day, over 4,000 mg of sodium less than these 3 meals.
Day 2
Breakfast
The important part to remember with this comparison is that this is Cracker Barrel's French Toast WITHOUT the syrup!!!! Not only do we skip the syrup and sweeten ours with fresh berries, but we also use Superfood Brioche bread which is loaded with nutritious goodness! Our version will skim off a whopping 610 calories, 34 g fat, 12 g fat, 560 mg sodium, and 55 g carbohydrates (remember...before syrup!!) Adding in the personal-sized bottle of syrup adds another 150 calories and 39g of carbohydrates bringing the total to 1010 calories and 127g of carbohydrates and lots of added sugars.
Lunch
What's not to love about Broccoli Cheddar Soup in a bread bowl...how about 1050 calories and 2840 mg of sodium? Don't give up the foods you love...just find ones to love that love you back! The difference between Panera's and Seattle Sutton's Broccoli Cheddar soup is 630 calories and 2220 mg of sodium. This gives you more calories for other items you can't live without and will have you loving that healthy feeling! Ours also comes with a whole-grain Hawaiian roll and an Ancient Grain Salad.
Dinner
Homestyle vibes are all over this meal! Meatloaf, mashed potatoes, and veggies make you think of family dinners and comfort. But the numbers on Cracker Barrel's version produces the opposite feeling…1040 calories, 54 g fat, 20 g saturated fat, 1880 mg sodium! With our version, you can still feel all those warm, cozy feelings but leave behind 560 calories, 36 g fat, 13 g saturated fat, and 1320 mg of sodium.
Limiting saturated fats is important for good health, the recommendations are to keep saturated fats to less than 10% of daily calories. For a 1200-calorie diet, that would be 120 calories or less or about 13 g per day. For a 2000-calorie diet, that would be less than 200 calories or about 22 g per day. Consuming a high amount of saturated fats can increase LDL (bad) cholesterol, promote the buildup of plaque in the arteries, and increase the risk of heart disease.
Day 2 Round Up
In this day of meals, if you were to eat them at the restaurants listed, you would be totaling 2950 calories, 127.5 g fat, 53 g saturated fat, 5500 mg sodium (YEP!), and 301 g carbohydrates.
The American Heart Association recommends 45-65% of your calories come from carbohydrates. The 3 restaurant meals listed above added up to 340 g of carbohydrates (if you added that bottle of syrup), which is 1360 calories from just carbohydrates! This would be over that recommendation for a 1200, 1500, and 2000-calorie diet. Our plans follow the AHA guidelines to improve blood sugars, promote a balanced diet, and provide the body with the right amount of energy. Don't sacrifice taste, convenience, and your health!
Day 3
Breakfast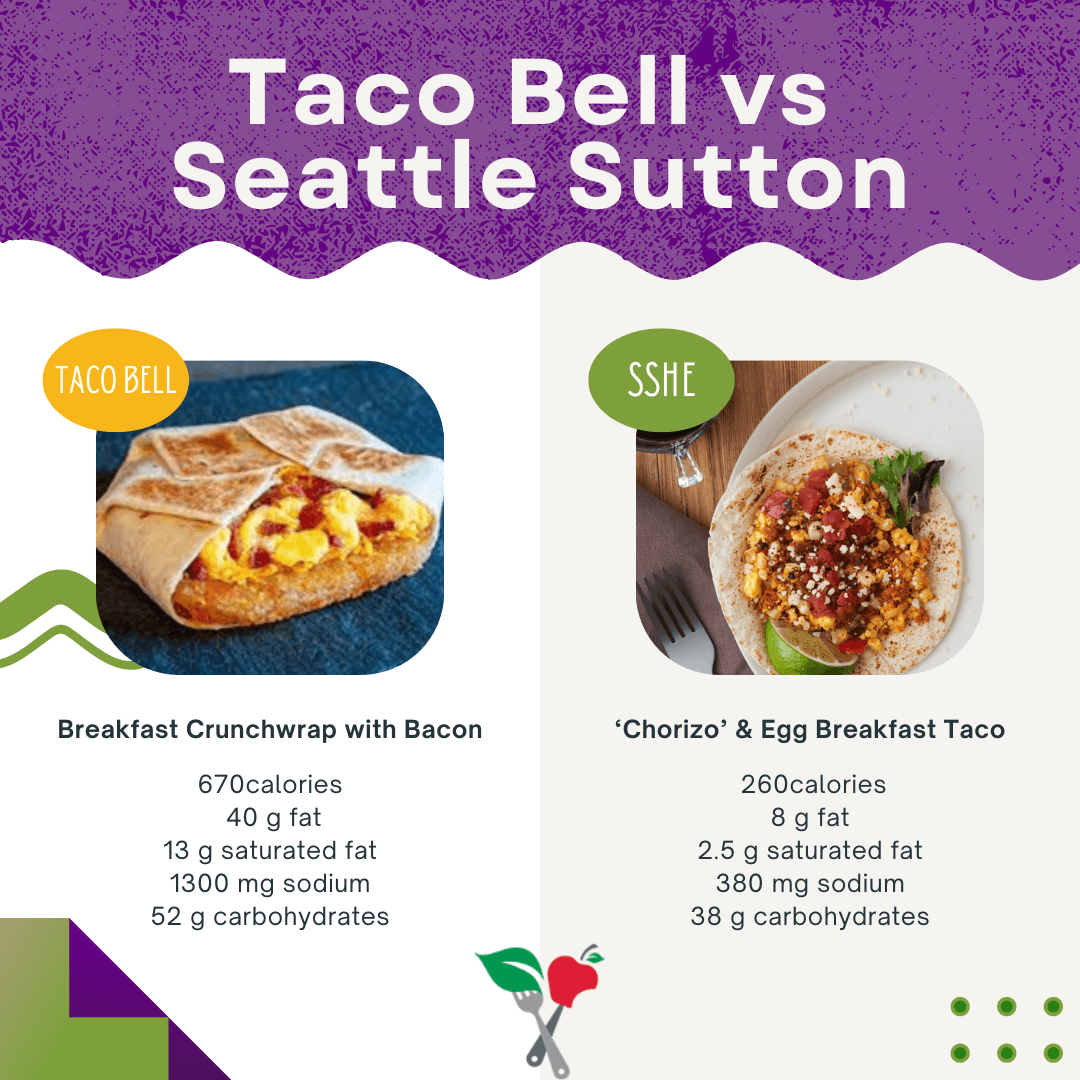 Seattle Sutton's Healthy Eating Breakfast Taco takes less than 2 minutes to prepare which is much quicker than ordering and waiting at the drive-thru. Not only is it faster, but it also comes with fresh, homemade salsa and a nutritious sweet potato hash to increase the vitamins, minerals, and fiber in this meal. By skipping the fast-food breakfast, you will save 410 calories, 32 g of fat, 10.5 g of saturated fat, and 920 mg of sodium.
Lunch
Our Chili Con Carne includes a hearty portion of turkey chili, natural cheese, whole-grain tortilla chips, and guacamole which is a meal that will not only fill you up but also provide good quality protein, fiber, and healthy fats. Culver's Chili Supreme adds 10 g of unhealthy saturated fats and almost 1900 mg of sodium more. Their chili also doesn't include any sides so these numbers will increase if you add their famous cheese curds or Butterburger. Choosing more unsaturated fats, such as those found in avocados, is a better choice for your heart. Cutting back on red meat, full-fat sour creams, and cheese is suggested to lower the saturated fats in your diet.
Dinner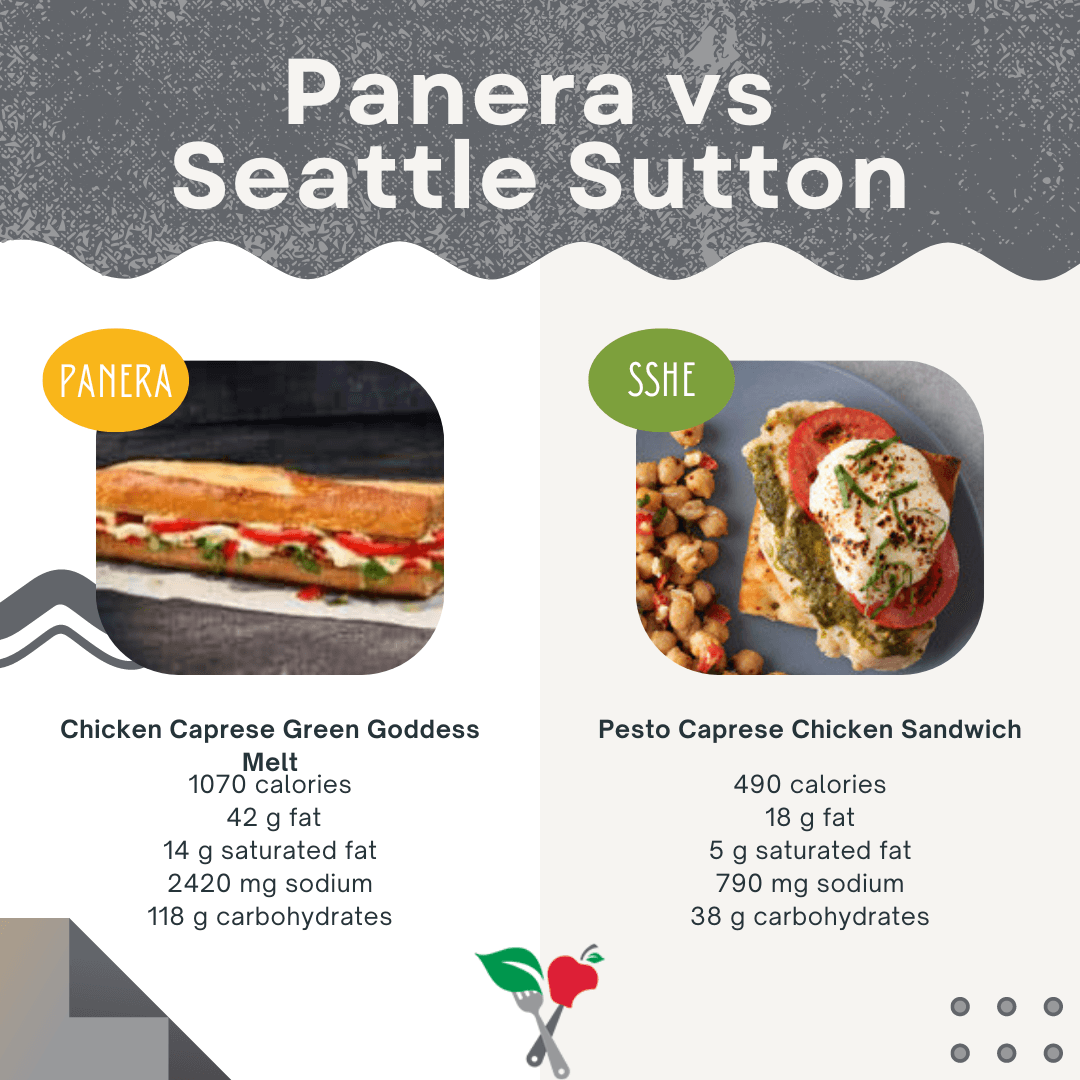 You could eat two of our Pesto Caprese Chicken Sandwich meals and still have fewer calories, fat, sodium, and carbs than in one of Panera's Chicken Caprese Green Goddess Melt. Our meal comes with a delicious garbanzo bean-feta salad and is served open-faced. Freshly prepared and balanced for a dinner that will fill you up, avoid a blood sugar spike, and leave you with the energy to get through the rest of your day. The difference: 580 calories, 24 g of fat, 9 g of saturated fat, 1630 mg sodium, and 80 g of carbohydrates.
Day 3 Round Up
One breakfast crunchwrap, a small bowl of chili, and one sandwich doesn't seem like a lot of food, but it adds up to 2360 calories, 116 g of fat, 42 g of saturated fat, and 6100 mg of sodium at these three restaurants. It is scary how you can feel like you are eating "light" and eating right by eating smaller meals and choosing a fresh sandwich instead of greasy fried food. This comparison is a good example of how it is important to do your research when eating out. Our dietitians do all of the label reading and calculating so you can just enjoy your food without having to worry about reading labels or adding up the day.
Dining out when you are watching your diet can be a challenge and as we've seen here you can be deceived when trying to choose the best choice nutritionally. The large portions, tempting dishes, and inability to control the ingredients can all wreak havoc on your goals. The restaurant meals above are loaded with added calories, fat, and sodium.
It's a good idea for all of us to cut back on dining out and try to eat healthier meals at home. Want to get started with your healthy eating goals but don't know where to start? Our healthy meal plans will give you the taste and convenience you are looking for and the confidence that you are giving your body what it needs to reach your health and wellness goals. In our opinion, we are the best healthy prepared meal company that you can trust for taste, convenience, and science-backed nutrition guidelines.

Hungry for more? Check out these other comparisons!!