At Seattle Sutton's Healthy Eating, we are so grateful for our amazing customers and caring employees each and every day. Our customers are why we do what we do and the feedback and stories we hear remind us how grateful we are to be able to make a difference in so many ways, not just by cooking meals.
This Thanksgiving as we all reflect on what we are most thankful for, we thought we would share stories from our customers of how they are appreciative of the service and care they receive from Seattle Sutton's. Reading through these stories it is very clear that we do so much more than provide food; the impact goes much farther and changes lives!
A father called to share a story about his daughter with Downs Syndrome. She was struggling to live independently, and her self-care and health were suffering. She could not shop and prepare healthy food and was resulting to foods that were worsening her health conditions. The family was faced with a decision to place her in a supportive home when they were introduced to Seattle Sutton's Healthy Eating. After signing her up for the meal plans, she not only improved her health but she was able to maintain her independence and live on her own successfully. Her father called to express his gratitude for us giving him the peace of mind that his daughter was taken care of and happy to be living more normally.
After months of caring for her mother with many health issues, a daughter called feeling desperate for a break. She had been working full-time, preparing every meal for her mother while trying to manage multiple diet restrictions, and driving to her house to check on her and drop off food a few times a week. She thought they would try Seattle Sutton's Healthy Eating for a week and see if it was a good fit. After learning that we follow the guidelines from the American Heart Association and the American Diabetes Association she was relieved that all of her diet needs would be taken care of and she could feel confident that her health was not going to suffer. Our meal plans helped her to better care for her aging parent. Her mother was set up with delivery service from a distributor and she loved that her mother had an extra set of eyes on her twice a week when they would be dropping off her meals. She said we were the "perfect fit" and she felt so thankful that we could help her in providing good care for her mother and allow her to take of herself as well.
An elderly man called last year after receiving the Thanksgiving Dinner and the Holiday Meal to share his appreciation for these meals. After losing his wife and having no family nearby he was feeling down and lonely around the holidays. When he saw that he could still enjoy familiar holiday foods and receive some holiday wishes from Seattle Sutton's he felt so happy that we included these on the menu.
A grateful customer reached out to us to share her success story. She was struggling with juggling different medications and decided to try Seattle Sutton's meals. She was elated to tell us that she was able to go off a number of her medications due to eating healthier and losing weight. Her success was affecting her husband too who was now starting the program and enjoying the meals. They were both excited to be able to do things as a couple together and looking forward to adding more healthy years to their lives together.
A
A long-term customer who had lost 150 pounds on the program credits our meal plan for keeping him healthy and maintaining his weight loss. He expressed being so thankful for his distributor saying she helped him celebrate his weight loss victories and never hesitated to go out of her way to help him.
"Your meals have changed my life." Another customer shared how significantly our program has transformed her health and outlook. She loves the meals, variety, and how it makes healthy eating so easy. Without the support from the meals, she says she "just can't seem to eat healthy without them."
Little victories are BIG victories when it comes to our health. Stories of customers being able to walk down the street without getting out of breath, working their way up to running their first marathon, and even being able to walk after being in a wheel-chair all help us feel confident that we are reaching our customers on a whole new level and helping them add quality to their lives.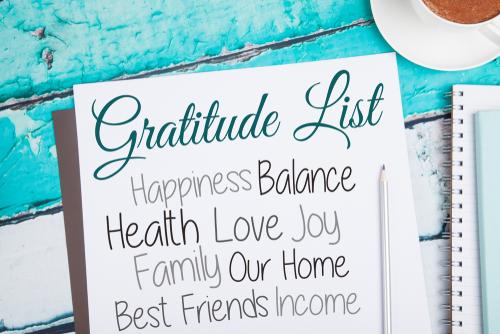 Customers not only love our food but also tell us they adore the quality of service they receive. An energetic lively smile that greets them with care. Dietitians that are always there for them and a dedicated leadership team that truly cares. It is these stories from customers and the relationships we create with our team at Seattle Sutton's Healthy Eating that make us beyond grateful! This is what makes us different from our competitors. Being family owned and operated by healthcare professionals that truly care, we treat you like family.
What are you thankful for this year?